CBC News: The National | Protest convoy, Residential school discovery, Team Canada
141631
711
26.01.2022
752977435
1320000
22252
17.10.2007
CA
Jan. 25, 2022 | Williams Lake First Nation reports preliminary findings of dozens of potential burial grounds near a former B.C. residential school. Who's involved in the convoy protesting vaccine mandates and public health restrictions heading to Ottawa. Plus, the veterans and newcomers on Team Canada's men's hockey team for Beijing 2022. 00:00 The National for Jan 25, 2022 01:05 93 potential burial sites found in B.C. 04:22 Canadian arrested after Mexico resort shooting 06:36 Protest convoy moves across Canada 10:30 Quebec to ease COVID-19 restrictions 10:57 Omicron-based vaccine trials underway 13:16 Police investigating British PM's parties 15:18 Canada pulls diplomatic families from Ukraine 16:20 Ukraine Canadians worry about loved ones 18:30 Rent increases squeeze N.B. tenants 21:30 Team Canada hockey roster unveiled 25:06 Concern about China's attempts to buy influence 35:29 Dr. Isaac Bogoch on vaccines and Omicron 40:19 Heavy snow disrupts travel in Turkey 40:52 Neil Young's Spotify Joe Rogan ultimatum 43:26 The Moment #WilliamsLake #ProtestConvoy #Beijing2022 Watch The National live on YouTube Sunday-Friday at 9 p.m. ET Subscribe to The National: 🤍🤍youtube.com/user/CBCTheNational?sub_confirmation=1 Connect with The National online: Facebook | 🤍🤍facebook.com/thenational Twitter | 🤍twitter.com/CBCTheNational Instagram | 🤍🤍instagram.com/cbcthenational More from CBC News | 🤍🤍cbc.ca/news The National is CBC's flagship nightly news program, featuring the day's top stories with in-depth and original journalism, with hosts Adrienne Arsenault and Andrew Chang in Toronto, Ian Hanomansing in Vancouver and the CBC's chief political correspondent, Rosemary Barton in Ottawa.
Кадры из видео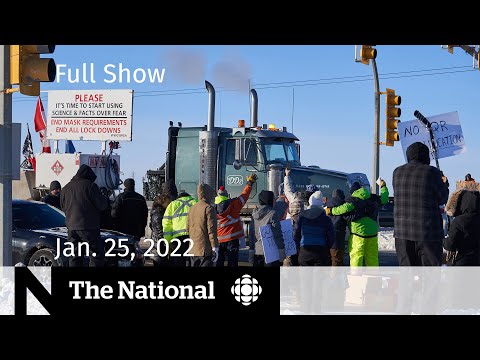 Комментарии пользователей:
Еще ни кто не оставлял комментариев...