Episode 123: "One Kill Squad Or Two?", Roguetech Challenge Run MkII
296
32
21
21.09.2022
227234
1160
646
09.02.2013
US
The Challenge Run MkII ruleset is simple: We drop half the recommended strength of units for any given mission, heavily hinder our advancement, and deny ourselves the vehicles and omnimechs that are available in Roguetech. Mechs will be crippled or destroyed, Mechwarriors will die, but we will do our best to win the day and limp home to repair, refit, and search for another payday. Challenge Run: Out of combat rules easy mode to allow for missions being lost and heavy damage. Lance rating is limited to half of mission difficulty within a half skull variation. For example: I drop no more than a 2 star lance on a 4 skull mission. See the original run here: 🤍youtube.com/playlist?list=PL_2BP72fOZX7hVGikcaQclS9o9in5aKkM Challenge Run MkII: Challenge Run Rules with slightly harder out of combat rules. Adds a progression limitation system, 6 lights to salvage mediums, 6 mediums to salvage heavies, and 6 heavies to salvage assaults. Also no omnis or vehicles. Oh, and we'll finish things off by fighting some super heavies. It's gonna hurt. For full custom ruleset check out episode 1: 🤍youtu.be/txsCCOKvXMw Challenge Run MkIII: War Is Hell. Bankruptcy will be a pressing concern while continuing the rules of the previous challenge runs. Link to episode 1 will replace this line of text once it begins. Most Likely Winter '22. And for the mission that inspired this entire challenge run madness: The Great Escape, where I was unaware the modders had changed the star map to include 5.5-10 skull missions and accidentally dropped on an 8 skull thinking it was 3: 🤍youtu.be/vDsEBvzH0K8 Game details: For this series I am playing Roguetech, a modpack being actively developed for Battletech, the turn based strategy game developed by Harebrained Schemes and released in 2018. The Challenge Run MkII is running the Mechrider version of Roguetech, which as of this description edit is now outdated. Updating further will break my save, so for more up to date Roguetech information check out the discord linked below. With the Roguetech Mod there are more mechs, more vehicles, more equipment, more weapons, and essentially more of everything. Steeped in the feudal political intrigue of the BattleTech universe, we will be taking on the role of a mercenary company setting out for blood and glory from the deep periphery state of Chanelaine Isles and slowly proceeding toward the Inner Sphere through Pirate Infested space. To purchase the vanilla game (Which is a great introduction to the Battletech Universe) you can find it on GoG.com here: 🤍🤍gog.com/en/game/battletech_game (The dlcs are not necessary for the base game experience nor for the Roguetech mod, but they do add mechs and features to both) To get the mod all you need to do is download and run it from here: 🤍discourse.modsinexile.com/t/rogue-tech/134 (The nexus mods version is heavily outdated and no longer functional) If you have questions you can find the Roguetech Discord Here: 🤍discord.gg/93kxWQZ #battletech #roguetech #challengerun #battlemech #mechwarrior #turnbased #strategy #roguelike #modded
Кадры из видео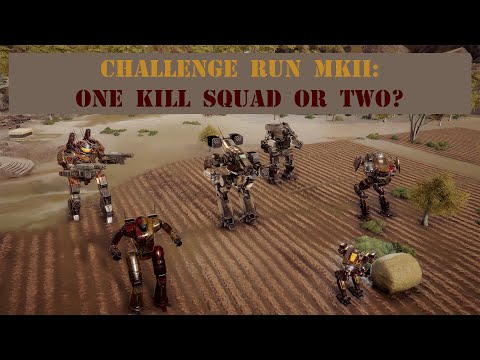 Комментарии пользователей:
jamaro2006
2022-09-22 21:08:35
If you knock down a building that a Vtol is hovering on, does it fall or does it wait until the next round to go down again?
Axie Grindset
2022-09-22 13:32:06
Mid and late game I'd be willing to buy salvage beyond my allotted picks.
Ken Gordon
2022-09-22 11:55:39
Everytime I hear her say

By you command

I think of the original Battlestar Galactica
Edit... Rewind to the Finacial report
Justin Friesen
2022-09-22 05:43:04
Nooooooo! The ER PPC with Cap Clan double stack!!!! 😢
OneBiasedOpinion
2022-09-21 21:39:39
The moments where you make a decision and then do the exact opposite of that decision are very chuckle-worthy.

Good luck against the Combine! 😁
MangoJim
2022-09-21 17:19:55
🥳🤩👍👍👍

KdL0KRzynMY&t=12m21s 12:21 🤭
TheRealChickenMan
2022-09-21 17:11:06
had this mission the other day, had a full med lance, mission wasnt hard till a kill squad came in, didnt know what it was at first and when i saw it i got so scared. 4 assaults vs a 5med and some vecs. i lost 2 vecs and almost a mech but it was fun and challenging.
icezera
2022-09-21 16:42:05
You saw that spinal HGR and gtfo of there lol.
Jesse wolfe
2022-09-21 14:19:22
The good part to clan xl engines you can loose a side torso and keep going and not loose the mech