Squishy Makeovers: Fixing Your Squishies #33
5671829
9308
107747
13.01.2023
3548282069
9320000
426
25.08.2010
Welcome to another episode of squishy makeovers, where I transform ugly, used, old, dirty, cheap or unwanted squishies (donated by my subscribers) into my own creations. I repair, paint and cut away for hours on end to complete these. Hopefully you like them. Get used to lots of rainbow and sprinkles, because I am addicted to both! DOWNLOAD SPARK Download Spark: 🤍apple.co/3gPrlWP Join Discord Community: 🤍discord.gg/w48nSSm3s4 _FAQs 1. CAN I SEND YOU SQUISHIES? So many generous people have sent me their unwanted squishies so I actually have a lot to work on already, BUT if you desperately want to, you can request my mailing address in the email ALLLL the way at down in the description (sorry for the traveling), make sure to read the disclaimer down there as well. 2. ARE SQUISHIES RETURNED TO THE SENDERS AFTER THE MAKEOVER? No. These squishies are sent as donations to the series because they are damaged and/or no longer wanted. Everyone has been informed in advance that squishies would not be returned. 3. WHAT PAINT DO YOU USE? I use fabric paint. Fabric paint is meant to stretch, so it is perfect for squishing! Any brand will work fine, but I mainly use Tulip. You can find it at Michaels, Hobby Lobby, A.C. Moore, Walmart, Joann Fabrics, and Online. 5. WILL FABRIC PAINT CRACK? The matte fabric paint is more likely to crack after lots of squishing. Slick fabric paints never crack. But there are benefits to both. I usually mix the two paints together to get the best of both worlds. 6. CAN I USE ACRYLIC PAINT ON SQUISHIES? I would not recommend that. Acrylic paint will either make the squishy hard, or it will crack and flake off very easily. _WELCOME TO MY CHANNEL Hey! my name is Moriah (pronounced muh-rye-yuh 😂 ) and this is my channel....obviously. I'm 28 and like doing anything creative...and being snarky.....just a lil. I make a lot of decorating, painting and general art videos here. I'm obsessed with editing and adding lil bits to my videos, so if that's not your thing....oof you may hate this haha. I paint on squishies, thrift store finds, and other random things I pick up. I also love to draw, but don't expect anything too skilled, I'm not the best at that haha. You will also find occasional crafting/testing crafting kits on my channel which are always a hot mess. And even some baking (REALLY bad at that, but it's fun to try). CURRENT SERIES: Squishy Makeovers: Fixing and decorating used squishies sent from my viewers Thrift Store Makeovers: Fixing and decorating stuff I find at thrift stores/yard sales Bake With ME: Recreating squishies I've decorated in real life Create This Book: Drawing in the prompt book that I wrote (available to purchase and follow along) Squishy Unboxing: Opening used squishy packages sent from viewers Find Products I Use (contains affiliate links): 🤍a.co/4XDtrmV _UPLOAD SCHEDULE_ Every Friday at 4:00pm ET: Alternating Squishy Makeovers, Thrift Makeovers, Craft Kit Reviews, Create This Book, Mail Openings and Miscellaneous crafts and DIYs DOWNLOAD SPARK Download Spark: 🤍apple.co/3gPrlWP Join Discord Community: 🤍discord.gg/w48nSSm3s4 PURCHASE ME PRODUCTS CREATE THIS BOOK: 🤍amzn.to/2vUerfI CREATE THIS BOOK 2: 🤍amzn.to/2Nx2G9f ME Merchandise: 🤍moriahelizabethmerch.com/ ME SOCIALS INSTAGRAM: 🤍🤍instagram.com/moriahelizabethofficial/ TIKTOK: 🤍🤍tiktok.com/🤍moriahelizabeth FACEBOOK: 🤍🤍facebook.com/Moriah-Elizabeth-102592864903627 SNAPCHAT: MoriahOfficial VISIT ME WEBSITE: 🤍🤍moriahelizabeth.com/ CONTACT ME EMAIL PICTURES OF YOUR ART: Artwork🤍Moriah.video FOR BUSINESS INQUIRIES/OPPORTUNITIES ONLY: moriah🤍nightmedia.co _MAIL ME_ For sending squishies, Letters, or general fan mail, please contact: FANMAIL🤍MORIAH.VIDEO to request my P.O. box address (must be 13+ to send mail) ATTENTION: Unfortunately I can only give out my address to a small amount of people each week. This is to make sure that I get a reasonable amount of mail and can feature the maximum amount on camera. I apologize in advance if you do not recieve the address.
Кадры из видео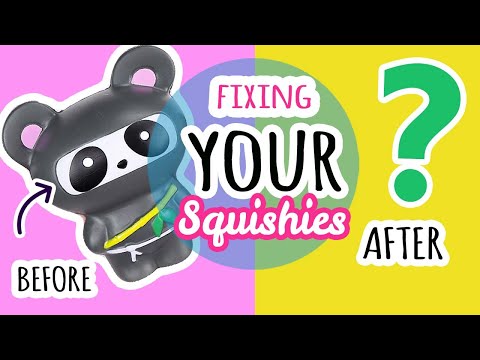 Комментарии пользователей:
Kitty Begum
2023-09-25 14:53:08
WHY DID YOU DO THIS!!!!!!!!!!!!!!???????
Sarah Aljamili
2023-09-25 10:14:53
🌕🌕🌕🌕🎩🌕🌕
🌕🌕🌕🌘🌑🌒🌕
🌕🌕🌘🌑🌑🌑🌓
🌕🌖🌑👁️🌑👁️🌓
🌕🌗🌑🌑👄🌑🌔
🌕🌘🌑🌑🌑🌓🌕
🌕🌘🌔🌘🌑🌕🌕
🌖🌒🌕🌗🌒🌕🌕
🌘🌔🌕🌗🌓🌕🌕
👠🌕🌕🌕👠🌕🌕
Stephen Hanson
2023-09-25 09:37:04
CijnlVGp4OI&t=6m22s 6:22 THEY ARE THE NINJAS OF NAFALOFAGUS
⭐️Void Bear🐻
2023-09-24 20:32:46
I dare you to fix /paint a squishy, without cutting anything off
lovely lip bones ouwwwwww wolvres.
2023-09-24 02:59:34
CijnlVGp4OI&t=2m37s 2:37 I have a feeling she is going to turn it into a cat :(
CijnlVGp4OI&t=8m53s 8:53 Got dammit I knew it!!
Claire
2023-09-23 23:36:18
Moriah you should do a video of completely pandas or do one to specifically be a panda
Wintėr_Ėdits_6
2023-09-23 12:59:12
The ninjas of navalafagus 🤩
ELECTRIC FNAF
2023-09-23 04:10:01
Is anyone going to talk about how she was going to make the panda the male and the fox the female but instead made the panda the female and the fox the male dang Moriah makes me laugh in every single video
Squishmallowluvr68
2023-09-21 23:55:48
Um u said that the fox was a panda the fox was the girl😭😭no hate❤❤❤I love ur vids 📌 pin??????❤❤❤pls. Edit oh oops got that all wrong sryyyyyy😭😭😭😭
Navdeep Jyani
2023-09-21 19:20:13
😊
Anime Queen
2023-09-20 20:07:11
She could have been baby Winifred with the baby squishy but too late now
Ashley Gamerpro
2023-09-19 01:12:14
Moriah you inspired me to love painting and doing art
Luke Short
2023-09-19 00:15:23
You forgot wich one is one
Stacey Hughes
2023-09-17 22:20:31
Did anyone else notice that she switched the bows?
Jeriel
2023-09-16 18:23:00
Idk why but after seeing Darla and hearing her story I don't really think that acorn squishy is enchanted.
Dominique Chu
2023-09-16 12:23:27
I love Squishy rosting en when you create the squishes
AlyssaStar
2023-09-16 06:47:38
random comment but,
LOVE YAH MORIAH
Mandy Suh
2023-09-16 04:06:46
Can you make doll rainbow friend blue
Mandy Suh
2023-09-16 04:05:20
😮❤😊☺️🥰🙃😌😏🙀😽😺🦊🐼😄🥰🥋