TRAVELING THAILAND ON $100 - Puk's 7 Day Adventure (Part 1)
3927
11
129
23.12.2021
77156
2250
23
04.08.2021
Well it's here, part 1 of my 7 Day Puk Adventure. On December 1st I set out on a 2200km journey all over Thailand while on a $100 budget. To save money and survive I would have to hitchhike places, sleep anywhere I can and eat street food, but there was a twist. Along the way I had a list of challenges to complete, twisted and chaotic challenges that if completed, I would receive and extra $50 to my budget. It's safe to say the trip lived up to it's hype, and if you followed the stories on my Instagram or Snapchat, then you know. But finally, the first part of a 3 part series is now live on YouTube. So sit back and enjoy as you watch me embark on the trip of a lifetime. Up The Puk!
Кадры из видео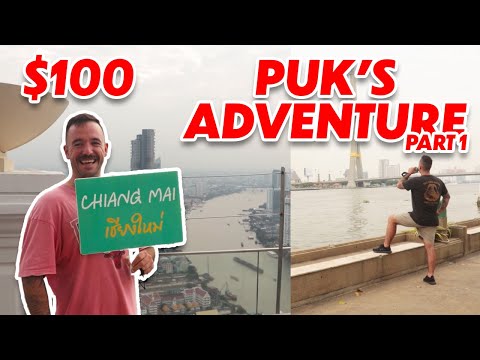 Комментарии пользователей:
yung dicaprihoe
2022-01-07 22:51:17
Good content
Jacob McDonald
2021-12-30 02:42:02
Brilliant sound tracks used here lads
Jacob McDonald
2021-12-30 02:27:13
Can't come down if you're always up!
Tourjaytee
2021-12-29 01:38:04
editing on point!
joshua lee
2021-12-27 05:45:16
These videos just get better and better!
Call me Gotti
2021-12-27 01:06:38
Puk I know the YouTube comments an views might be low but this content is great. Thanks for sharing I hope you continue to share. I look forward to two years from now you having a million subs when the Algo picks up.
Chris
2021-12-24 21:04:03
Once your hostelopens you need cb media to come visit you and blog your new place. Anyways good luck on the adventure
ddotclarke
2021-12-23 09:34:05
Dylan definitely made up for his fuckups with the quality of filming and editing
Jamie Attwood
2021-12-23 07:18:59
Looks like a awesome trip bro 👌
Jack CF
2021-12-23 05:45:01
here to watch Dylans blowouts